Need an insurance solution that caters to Amazon Relay drivers?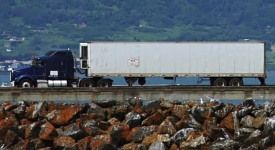 Cover Whale can write that Amazon Relay Requires: Quote in 5 minutes and issued in 10 minutes, same day issuance and same day filings .
We offer everything Amazon requires:
$50,000 Trailer Interchange Coverage
$100,000 Cargo Coverage
$1,000,000 Auto Liability Coverage
Commercial General Liability not less than $1,000,000 per occurrence and $2,000,000 in the aggregate
Auto Liability not less than $1,000,000 per occurrence, including a trailer replacement coverage of $50,000
Cargo coverage of at least $100,000
Workers' compensation insurance in all jurisdictions where your company operates
Employer liability not less than $100,000 per occurrence
We also offer UIIA coverage for those clients looking to run intermodal freight for Amazon.
Our key advantage over competitors?
We don't charge extra for out-of-state drivers, which could save your Amazon Relay client thousands.
And that's on top of our:
Market Leading Rates
Instant Quote
Same Day Effective Dates and Binds.
Flexible Payment Options